Specification & Description
AC1900 – NIGHTHAWK SMART WIFI ROUTER
AC1900 WiFi—600+1300 Mbps speeds
1GHz Dual Core Processor
Dynamic QoS prioritizes network traffic for uninterrupted video streaming for applications like YouTube®, Netflix® & others
ReadyCLOUD® USB Access allows you to enjoy personal and secure cloud access to USB storage anytime, anywhere
Nighthawk App – Easily set up your router and get more out of your WiFi.
Works with Amazon Alexa & the Google Assistant – Control your home network using voice commands
Circle® Smart Parental Controls
NEW: NETGEAR Armor™ – Advanced cyber threat protection for your home and all your devices
CYBERSECURITY FOR YOUR HOME
Protect your home network and all connected IoT, smart home and personal mobile devices safe and secure from cyber threats. NETGEAR Armor powered by Bitdefender protects all your smart home devices from cyber threats or attacks including viruses, Trojans, spyware, ransomware, and more. Check security status for all your devices in one place and receive instant alerts when threats are blocked on any device.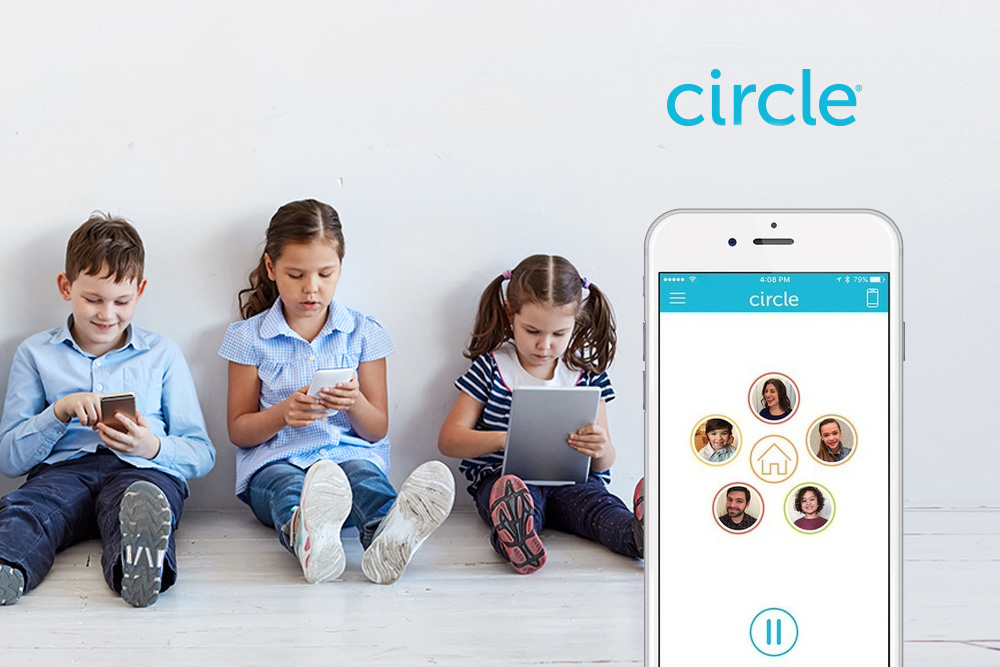 Smart Parental Controls
Circle Smart Parental Controls is the simple yet powerful way for families to manage content and time online on any connected device. Using the Circle app, you can set Time Limits for specific apps and websites, pause internet by device or by user with the press of a button, set a BedTime for each family member and their devices, and so much more.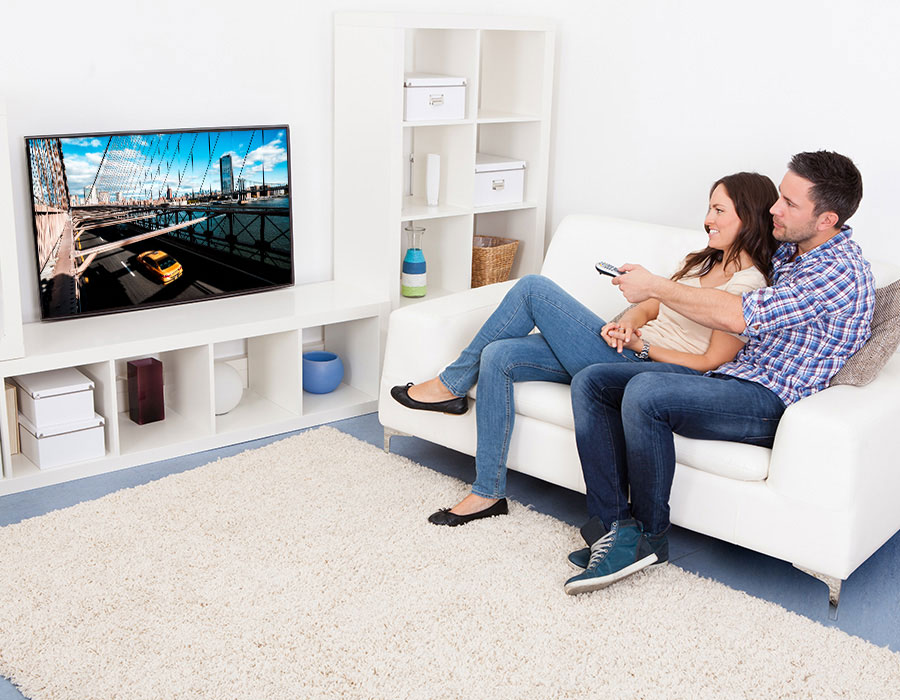 Built for Gaming, Streaming and Mobility
NETGEAR Nighthawk AC1900 Smart WiFi Router was built to handle all your high-bandwidth online activities at top speeds. A powerful 1GHz dual core processor prioritizes bandwidth to your game so other devices on the network don't slow you down. Nighthawk's Dynamic QoS is optimized for streaming applications like YouTube®, Netflix®, and more, so you can enjoy uninterrupted video streaming. And with features like high performance external antennas and Beamforming+, you can enhance your mobile speeds by up to 100% and roam freely throughout your home without slow or dropped connections.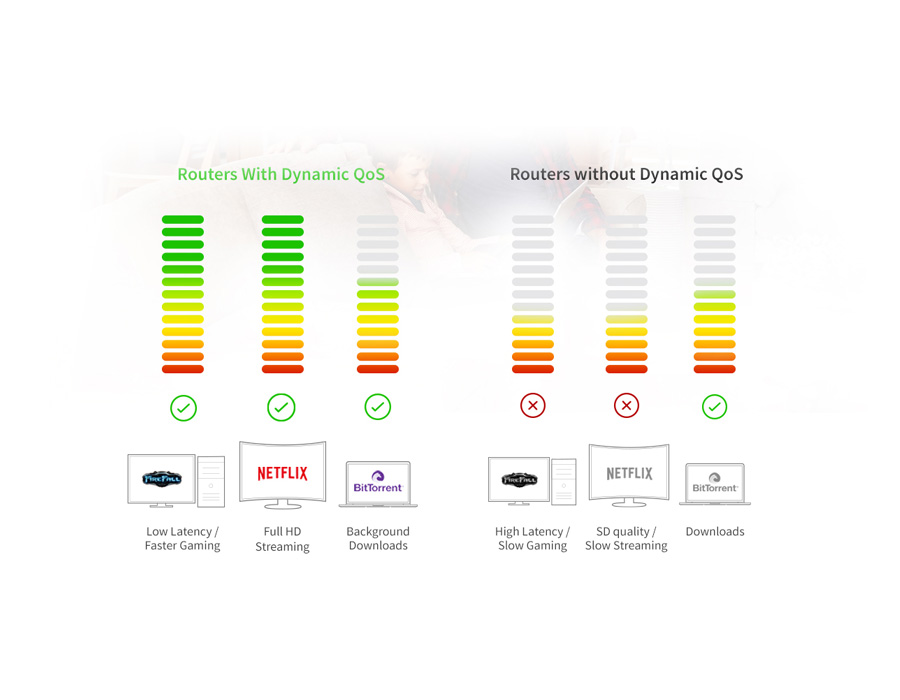 Dynamic Quality of Service
If you like gaming and streaming videos, then you'll benefit from Dynamic Quality of Service (QoS). Dynamic QoS resolves Internet traffic congestion when you have competing Internet demands at home. Dynamic QoS identifies your online activities by application and device, and then utilizes bandwidth allocation, and traffic prioritization techniques, to automatically allocate more bandwidth to latency sensitive applications like online gaming and video streaming, while ensuring that lower priority applications continue to work.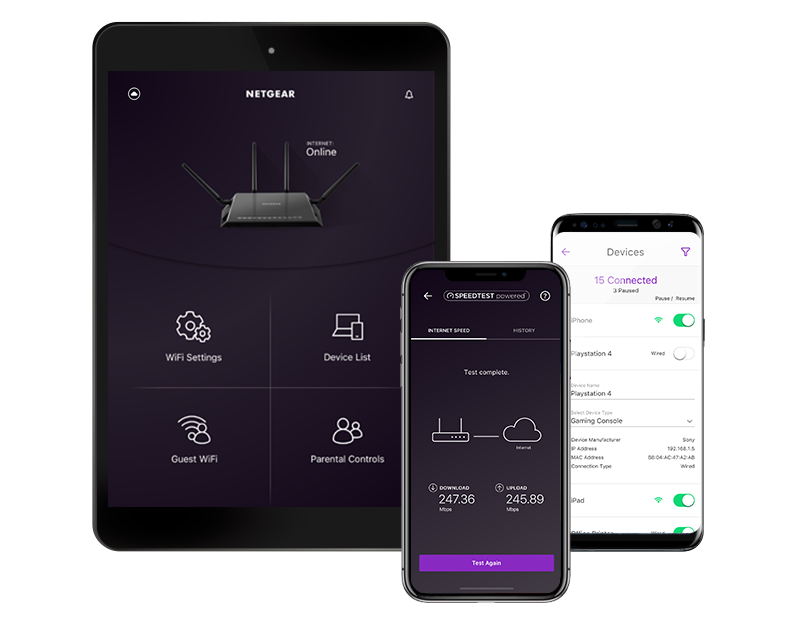 NIGHTHAWK® APP
Setup and control your home WiFi from the palm of your hand.
REMOTE MANAGEMENT — Easily monitor your home network anytime, anywhere.
INTERNET SPEED TEST — Check the broadband speeds from your service provider.
GUEST NETWORK — Set up separate WiFi access for guests.
QUICK SETUP — Get connected in just minutes.
Download the Nighthawk App on the Apple App Store or the Google Play Store.
Brand – Netgear, Model – Netgear R7000, Router Type – Wireless & Ethernet, WiFi Network Standards – IEEE 802.11b,g,n,a,ac, LAN Network Standard – 10/100/1000, WAN Newtork Standard – 10/100/1000, Data Transfer Rates (WiFi) – 1900 Mbps (1300 + 600), Interface – 1 x USB2.0, 1 x USB3.0, 1 x WAN, 4 X LAN, Data Transfer Rate (Lan) – 1000 Mbps, Number of WAN Port – 1, Number of LAN Port – 4, USB Interface – 1 x USB 2.0 & 1 x USB 3.0, USB Interface Application – Shares files & media, Antenna (Type & Qty) – 3 x External antennas, Operating Frequency – 2.4 GHz, 5 GHz, Security Protocols – Wi-Fi Protected Access (WPA/WPA2 PSK) and WEP, Denial-of-service (DoS) attack prevention, VPN support secure remote access, Guest network access separate & secure, Firewall Protocols – Double firewall protection (SPI and NAT), Band – Dual, CPU – 1 GHz dual-core processor, RAM – 256 MB, Storage – 128 MB, OS – Windows 7, 8, 10, Vista, XP, 2000, Mac OS, UNIX, or Linux, Microsoft Internet Explorer 5.0, Firefox 2.0, Safari 1.4, or Google Chrome 11.0 browsers or higher, WiFi Coverage (Approximate) – Up to 5000 sq. ft., Number of Concurrent User – Up to 30 User connections, 3G/4G – Via Modem, Mesh Technology – No, MIMO Technology – No, VPN Support – Yes, Built in Antivirus – Yes, Wall Moutable – Yes, Best For – Very large home, Print Compatible – No, Weight – 0.75Kg, Dimension( Wx Dx H mm) – 285 x 184.5 x 50 mm, Features – Smart Connect-Same WiFi network name on 2.4 & 5GHz for automatic band selection, Dynamic QoS-Prioritizes bandwidth by application and device, ReadySHARE USB-Share USB hard drive and printer, ReadyCLOUD USB Access-Enjoy personal & secure cloud access to USB storage, Customized free URL to set up personal FTP server, Automatic firmware update delivers latest security patches to the router, VPN support-Secure remote access, Now also on Mobile devices, Guest network access-Separate & secure, Implicit & Explicit Beamforming-More reliable connections, Alexa Voice Control-Use Amazon Alexa to control network with simple voice commands, Speciality – AC1900Mbps Dual Band Nighthawk Gigabit WiFi Router, Warranty – 2 year, Part/Model Number – R7000, Country of Origin – USA, Made in/ Assemble – China