Specification & Description
About This Product
Netgear RAX80 AX6000 Nighthawk AX8 8-Stream WiFi 6 Router
NETGEAR Armor™ – Advanced cyber threat protection for your home and your connected devices *
Ultra-fast Wireless Speeds — 8-Stream WiFi with up to 1.2 + 4.8Gbps †
More WiFi for More Devices — Uplink and downlink OFDMA substantially improves network capacity and efficiency, particularly when traffic is created simultaneously. §
Up to Four Simultaneous WiFi Streams — 4-stream MU-MIMO enables streaming on up to four 1×1 devices at the same time.
160MHz Channel Support* — Gigabit speeds for compatible mobile devices and laptops.
Additional DFS Channels — For an interference-free experience.
Powerful Processor — 64bit 1.8GHz quad-core processor ensures smooth 4K UHD streaming and gaming.
Multi-Gig Internet Support — Aggregate two gigabit Ethernet ports to get multi-gig Internet speeds where supported.
Six Gigabit Ports — Connect more wired devices for faster file transfer and uninterrupted connections.
Support All Current WiFi Devices — Backward compatible with 802.11a/b/g/n/ac client devices.
Dynamic QoS — Prioritizes internet traffic by application and device for smoother streaming.
Nighthawk App — Easily set up your router and get more out of your WiFi. Includes remote access to manage your network when away from home.
Circle® Parental Controls – the smart way for families to manage content and time online, on any device ††
Automatic Firmware Updates — Delivers the latest security patches to the router.
Works with Amazon Alexa and the Google Assistant — Control your WiFi using voice commands.
WIFI 6 TECHNOLOGY
Latest WiFi 6 technology helps deliver the fastest speeds to all your connected devices of today and tomorrow with 4X more capacity, and is 100% backwards compatible.
GIGABIT WIFI TO MOBILE DEVICES
Support for WAN port aggregation lets you stream your favorite TV shows and movies in high definition on more devices.
BETTER NETWORK CAPACITY
Efficient data scheduling creates an impressive capacity increase that allows more devices to be connected to your network.
POWERFUL PERFORMANCE AT THE CORE
A 64-bit 1.8GHz quad-core processor powers Nighthawk AX8, transferring gigabits of data with almost zero CPU load so you always get the best performance for streaming, gaming, and more without interruptions.
NIGHTHAWK APP
Setup and control your home WiFi from the palm of your hand.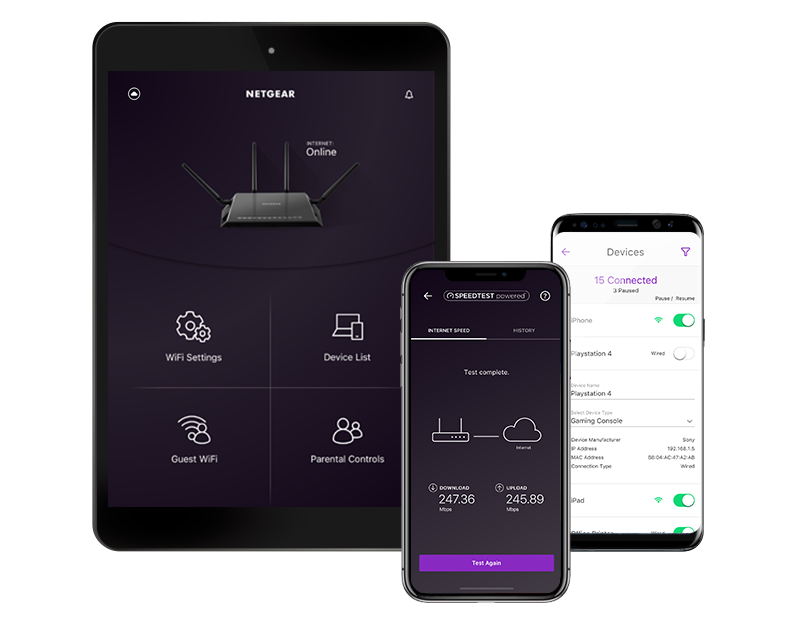 REMOTE MANAGEMENT — Easily monitor your home network anytime, anywhere.
INTERNET SPEED TEST — Check the broadband speeds from your service provider.
GUEST NETWORK — Set up separate WiFi access for guests.
QUICK SETUP — Get connected in just minutes.
Cybersecurity for Your Home
NETGEAR Armor™ protects your connected home from Internet threats. Armor's multi-layered cybersecurity is built into your WiFi router to protect your smart devices, smartphones, and computers. NETGEAR Armor includes Bitdefender's® award-winning anti-virus, anti-malware, and data protection for an unlimited number of devices.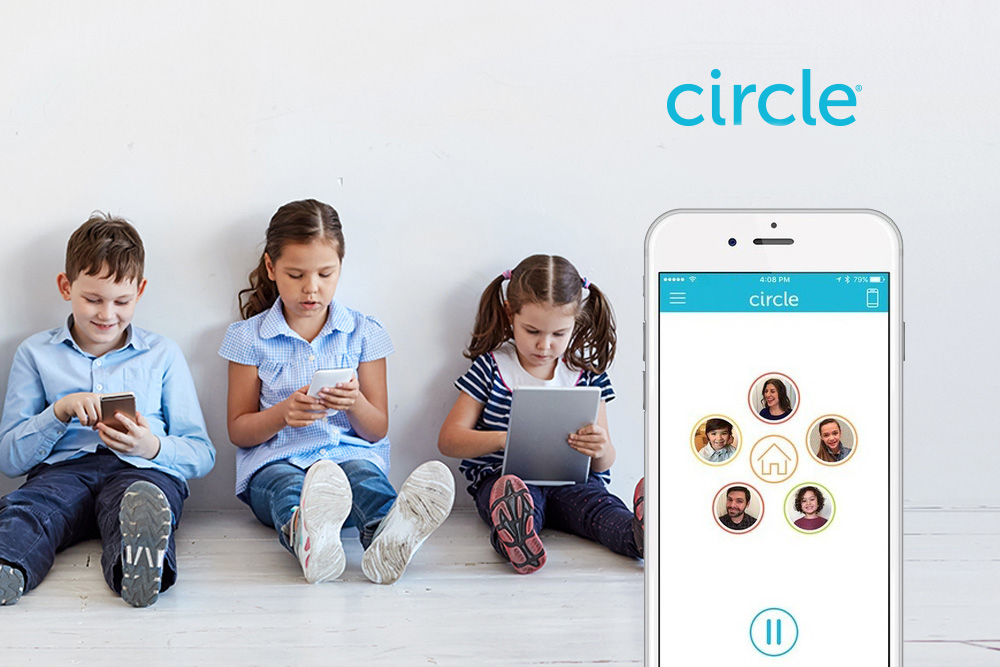 Smart Parental Controls
Circle® is a smart way for families to manage content and time online, on any connected device. Using the Circle app smart parental controls you can easily manage content and time online for each family member. Set Time Limits on daily internet time for apps, and websites. Pause internet by device or by user with the press of a button. Set Bed Time for each family member and their devices. Learn more
IDEAL USES
RELIABLE SMART HOME CONNECTIVITY

Support for simultaneous dual-band is ideal for connecting multiple IoT devices. Your WiFi stays strong and reliable for everything from sensor-based, low-bandwidth activity to high-bandwidth video streaming.

SMOOTHER UHD 4K/8K STREAMING

Watch ultra HD 4K/8K videos on your smart TV while others game online and upload pictures from their smartphones. Streaming on Netflix and YouTube has never been smoother.

FASTER AND FARTHER COVERAGE

Whether your family is gaming in the basement or streaming videos by the pool, everyone can enjoy ultra-fast wireless speeds, indoors and out. 8 high-performance antennas provide stronger and more reliable whole home coverage.
Brand – Netgear, Model – Netgear RAX80 AX6000, Router Type – Wireless & Ethernet, WiFi Network Standards – IEEE 802.11b,g,n,a,ac,ax, LAN Network Standard – 10/100/1000, WAN Newtork Standard – 10/100/1000, Data Transfer Rates (WiFi) – 6000 Mbps, Interface – 1 x WAN, 5 x LAN, 2 x USB3.0, Data Transfer Rate (Lan) – 1000 Mbps, Number of WAN Port – 1, Number of LAN Port – 5, USB Interface – 2 x USB 3.0, USB Interface Application – Shares files & media, Antenna (Type & Qty) – 4 x high-performance antennas, Operating Frequency – 2.4 GHz, 5 GHz, Security Protocols – PSK, Band – Dual, CPU – 1.8 GHz quad-core processor, OS – Windows 7, 8, 10, Vista, XP, 2000, Mac OS, UNIX, or Linux, Microsoft Internet Explorer 11 or higher, Microsoft Edge, Google Chrome 55 or higher, Firefox 45 or higher, Safari 10 or higher, Number of Concurrent User – Up to 20-25 User connections, 3G/4G – No, Mesh Technology – No, MIMO Technology – Yes, VPN Support – Yes, Built in Antivirus – No, Wall Moutable – No, Best For – Very large home, Print Compatible – No, Button – Reset, LED, Power, Weight – 1.27Kg, Dimension( Wx Dx H mm) – 273 x 202 x 72 mm (Folded), 305 x 202 x 161 mm (Unfolded), Speciality – AX6000 Nighthawk AX8 8-Stream WiFi 6 Router, Leading the New Era of WiFi, IMPROVED NETWORK CAPACITY FOR MORE WIFI DEVICES, 8-Stream WiFi – Network Efficiency and Faster Speeds, Gigabit WiFi to Mobile Devices, Powerful Performance at the Core, Cutting-Edge Design, On/Off LED light switch, IPv6 Support (Internet Protocol Version 6), Dual Gigabit Ethernet Port Aggregation, Six (6) 10/100/1000 Mbps Gigabit Ethernet ports, Longer range with 4 high-performance antennas, Dynamic QoS- Prioritizes internet traffic by application and device for smoother streaming, MU-MIMO++-Simultaneous streaming of data to multiple devices, Additional DFS channels for interference free experience, 160MHz channel support, Powerful 64bit Quad-Core 1.8GHz Processor, 1024-QAM-25% data efficiency and faster speeds than a 256-QAM router, Uplink & Downlink OFDMA – Improved capacity and efficiency, Others – 2.4GHz AX: 4×4 (Tx/Rx) 1024 QAM 40MHz, up to 1.2Gbps, 5GHz AX: 4×4 (Tx/Rx) 1024 QAM 160MHz, up to 4.8Gbps, WIFI RANGE: Very large homes, WIFI BAND: Simultaneous dual band 2.4 & 5GHz, BEAMFORMING: Beamforming+ – Boosts speed, reliability and range of WiFi Connections for 2.4 and 5GHz, NUMBER OF ETHERNET PORTS: Six (6) 10/100/1000 Mbps Gigabit Ethernet ports (1 WAN & 5 LAN), Dual Gigabit Ethernet Port Aggregation, PROCESSOR: Powerful 64bit 1.8GHz quad-core processor, SECURITY: Standards-based WiFi Security (802.11i, 128-bit AES encryption with PSK), Automatic firmware update delivers latest security patches to the router, Guest network access-separate & secure, VPN Support-Secure access to your home network away from home, OS Supported: Windows 7, 8, 10, Vista, XP, 2000, Mac OS, UNIX, or Linux, Microsoft Internet Explorer 11 or higher, Microsoft Edge, Google Chrome 55 or higher, Firefox 45 or higher, Safari 10 or higher, Dimensions: 273 x 202 x 72mm (Folded size), 305 x 202 x 161mm (Unfolded size), Weight: 1281gm, PACKAGE CONTENTS: AX8/8-Stream AX6000 WiFi Router (RAX80), Ethernet cable, Quick start guide, Power adapter, Warranty – 2 years, Part/Model Number – RAX80, Country of Origin – USA, Made in/ Assemble – China