Specification & Description
About This Product
Netgear RBS50 Orbi Satellite Only for Orbi Routers
Only works with an Orbi Whole Home Mesh WiFi ac Router and Orbi ac WiFi Systems.
Adds 2,500 sq. ft. of coverage to your existing Orbi ac WiFi System with the same network name & seamless roaming.
Eliminates WiFi dead zones and buffering in hard to reach places, adding 2,500 sq. feet of coverage to your existing Orbi Mesh WiFi network.
Creates an ultra-performance Mesh WiFi network that blankets every inch of your home in super fast and seamless WiFi connectivity — room to room, wall to wall, floor to floor.
4 Ethernet ports provide ultimate flexibility and connectivity for your Smart TV, game console, streaming player, and more
Orbi creates one seamless network, so as you move from room to room, your signal won't drop.
Quick & easy setup with the Orbi app–Pause WiFi, do a quick speed test, set up Smart Parental Controls, and much more.
Better WiFi. Everywhere.
Your WiFi hero
Orbi eliminates buffering and dead zones so you can enjoy smooth streaming.
WiFi superhighway
Stream in the fast lane with Orbi's award-winning WiFi tri-band mesh technology.
Easy voice control
Pause your WiFi, turn on guest WiFi, and more with Amazon Alexa or the Google Assistant.
Whole Home Coverage – Upstairs and Downstairs
Eliminate dead zones throughout your whole home by adding up to 2,500 square feet of WiFi coverage. Other types of WiFi extenders lose speed and range over large distances.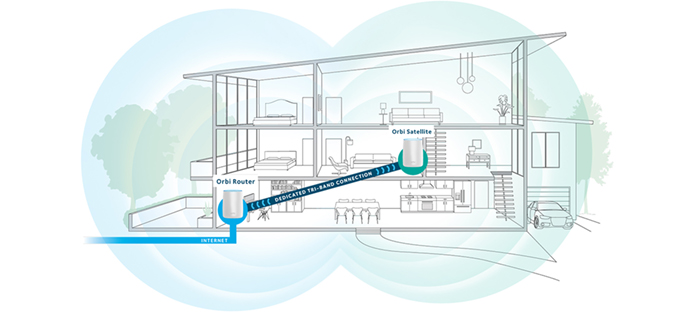 Expandable for more WiFi coverage
Easily add more Orbi satellites to your existing Orbi WiFi system for additional WiFi coverage. Indoor and Outdoor satellite options fit any need (sold separately).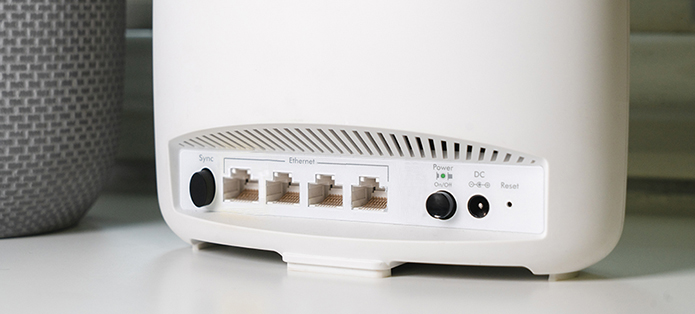 Ethernet Ports
If you like the performance and stability of a wired connection, an Orbi WiFi system is a great solution for you. Connect more wired devices using the four Ethernet ports on the Orbi desktop Satellite.
Brand – Netgear, Model – Netgear RBS50 Orbi Satellite, Router Type – Wireless & Ethernet, WiFi Network Standards – IEEE 802.11b,g,n,a,ac, LAN Network Standard – 10/100/1000, Data Transfer Rates (WiFi) – 3000 Mbps (1733 + 866 + 400), Data Transfer Rate (Lan) – 1000 Mbps, Interface – 4 x LAN, 1 x USB2.0, Number of LAN Port – 4, USB Interface – 1 x USB 2.0, USB Interface Application – Shares files & media, Antena (Type & Qty) – 6 x high-performance antennas, Operating Frequency – 2.4 GHz, 5 GHz-1, 5 GHz-2, Security Protocols – WPA/WPA2-PSK, Band – Tri, RAM – 512 MB, Storage – 4 GB, WiFi Coverage (Approximate) – Up to 2500 sq. ft., 3G/4G – No, Mesh Technology – No, MIMO Technology – Yes, VPN Support – No, Built in Antivirus – No, Wall Moutable – No, Best For – Whole Home, Print Compatible – No, Button – Power, Sync, Weight – 0.89Kg, Dimension( Wx Dx H mm) – 170.3 x 78.9 x 225.8 mm, Speciality – Orbi Satellite Only for Orbi Routers, One WiFi network for entire house, Circle Smart Parental Controls, Works with Amazon Alexa, Reliable whole home WiFi ready in minutes, Others – Dedicated Backhaul: Yes, Memory: 4GB flash and 512MB RAM, MU-MIMO: Yes, Beamforming: Yes, Dimensions: 170.18 x 78.74 x 226.06mm, Weight: 890.5gm, Warranty – 3 year, Part/Model Number – RBS50, Country of Origin – USA, Made in/ Assemble – China