Specification & Description
Samsung 970 EVO Plus 500GB SSD
Are you Worried to Know Samsung 970 EVO Plus 500GB SSD Price in Bangladesh? Let's Discuss the features and price of Samsung 970 EVO Plus 500GB SSD.
At a Glance
Featuring our latest V-NAND technology and a newly enhanced Phoenix controller, Samsung 970 EVO Plus Series NVMe M.2 SSDs deliver outstanding performance in Non-Volatile Memory Express (NVMe), with exceptionally fast sequential speeds outperforming our standard 970 EVO models. Plus, Samsung's Magician software solution provides advanced functionality for you to manage, monitor and maintain your drive.
NVMe speeds up sequential read/write performance, while Samsung TurboWrite technology accelerates write speeds even further
Compact M.2 form factor ready for high-end computing
Samsung Magician software for SSD management, including automatic firmware updates
Ideal for high-performance client PC applications (not designed for server or data center applications and warranty does not support such usage)¹
Features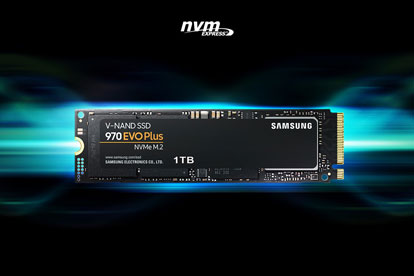 Non-Volatile Memory Express (NVMe)
970 EVO Plus 500GB NVMe SSDs with a newly enhanced Phoenix controller outperform our standard 970 EVO 500GB model with exceptionally fast sequential read/write speeds up to 3,500/3,300 MB/s. They also support PCI Express® (PCIe) Gen 3 x 4 lanes to provide high bandwidth and low latency, making them perfect for business professionals who need cutting edge-performance for high-end computing.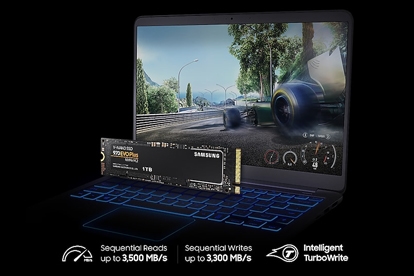 TurboWrite Technology
Samsung's intelligent TurboWrite technology helps to maximize your computing ability, accelerating write speeds above and beyond the already exceptionally fast speeds of NVMe.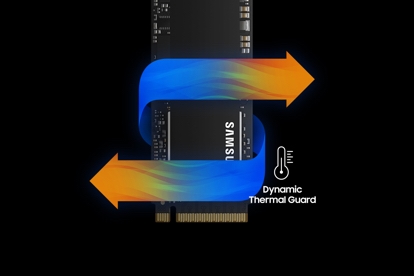 Dynamic Thermal Guard
This feature constantly monitors and works to maintain ideal temperatures to protect the integrity of your data and safeguard from overheating. When temperatures rise above an optimal threshold, the Dynamic Thermal Guard automatically throttles them down to protect data while maintaining responsiveness.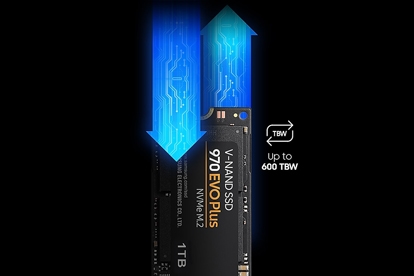 Secure your investment with a 4-year limited warranty up to 300 TBW. The 970 EVO Series also minimizes performance degradation over time, in order to provide sustained performance for high-end business use.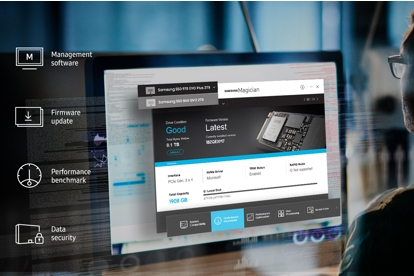 Professional-Quality Drive Management
With the Samsung Magician software solution, you get advanced functionality to manage, monitor and maintain your 970 EVO Plus SSDs. Magician provides personalized firmware checking and additional functions tailored for individual drives. It even updates the firmware automatically to make sure that the drive's performance stays up to date.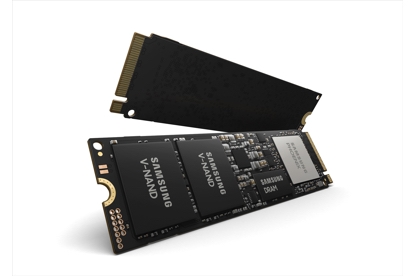 V-NAND Technology
Samsung's proprietary V-NAND flash memory helps to overcome the limitations of conventional planar NAND architecture. It stacks 64 cell layers vertically over one another rather than trying to fit itself onto a fixed horizontal space, in order to provide high density and performance with a small footprint.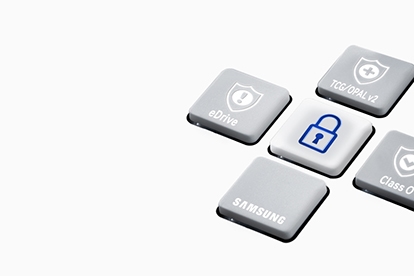 SSD Data Security
This Drive includes an AES-256-bit hardware based, full disk encryption engine that secures your data without sacrificing performance and is compliant with TCG/OPAL V2.0 and IEEE1667.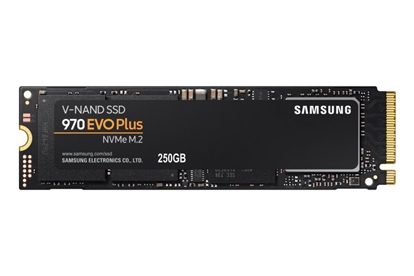 Highly-Efficient Power Management
Thanks to exceptionally low active power consumption, you can work efficiently for long periods of time. Device Sleep Mode is also supported for ultra-thin laptop PCs and high-end desktop main boards.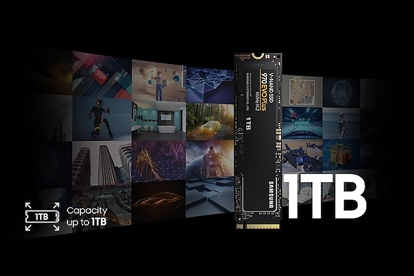 Samsung SSD Components
Samsung's solid-state drives are built entirely from Samsung components, leveraging our extensive OEM expertise to allow complete, optimized integration.
Model – Samsung 970 EVO Plus, Type – M.2 NVMe PCIe Gen 3.0×4 SSD, Storage (GB/TB) – 500GB SSD, Form Factor – M.2 2280, Interface – NVMe PCIe Gen3 x4, Flash Type – V-NAND 3-bit MLC, Read Speed (Max.) – 3500MB/s, Write Speed (Max.) – 3300MB/s, Random Read IOPS – Up to 480,000, Random Write IOPS – Up to 550,000, Shock Resistance – 1500G/0.5ms, AES Encryption – 256-bit, TRIM Support – Yes, S.M.A.R.T Support – Yes, MTBF – 1,500,000 hours, Dimension – 80.15 x 22.15 x 2.38mm, Weight – 8 gm, Others – STORAGE MEMORY: Samsung V-NAND 3-bit MLC, MTBF: 1.5 Million Hours Reliability, SHOCK: 1,500 G & 0.5 ms (Half sine), Specialty: TRIM SUPPORT, S.M.A.R.T SUPPORT, DEVICE SLEEP MODE SUPPORT, ENCRYPTION SUPPORT, Part No – MZ-V7S500, Warranty – 4 year, Country of Origin – Korea
What is the price of Samsung 970 EVO Plus 500GB SSD  in Bangladesh?
The latest price of Samsung 970 EVO Plus 500GB SSD  is 8,600৳. You can buy the Samsung 970 EVO Plus 500GB SSD at best price from our website or visit any of our showroom